Honestly, the WordPress.com stats helper monkeys forced me to make this post…
…well, forced is a bit of a stretch…hinted at might be closer to the truth…
They did say they mulled over how this blog did in 2010, and provided a high level summary of its overall blog health with the following Blog-Health-o-Meter™.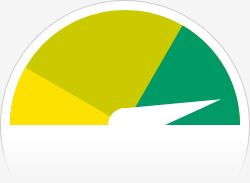 The Blog-Health-o-Meter™ reads Wow.  Whatever that means…
As background for my blog health rating, my first blog posting was August 19th, 2010 titled So what exactly is blogging all about?. I had no idea then how to blog, what a blog really was, etcetera.  Inspired by two of my teacher ed program classmates, I took the plunge.  Now, 100 posts later, I kinda like blogging but still have lots to learn, and write.  I'm not shooting for any particular number of posts, comments, visitors, etcetera, although seeing the views count on my stats page does give a tad of a rush once in a while when it jumps from 2 views to 6, a 200% increase!
All kidding aside, blogging is just an opportunity for me to reflect, tangentially or otherwise, on all aspects of my new career as a high school math teacher.  While I am a "candidate" at present, I will be an honest to goodness real one once I graduate in June 2011 and find a job!  I also appreciate comments, feedback, etcetera to help me widen my perspective, see things in new ways, and improve.
So, best wishes to all for a healthy and emotionally prosperous New Year.  I have no hopes for the financially prosperous part, unless monkeys start to fly…
Back on the financial side: When I start teaching this fall, I will likely start my new teaching career making about what I made in 1989, one year out of college as a degreed electrical engineer (albeit with five years experience in laser radar and signal processing systems), and that is in constant dollars, which are not adjusted for inflation.  According to InflationData.com, the cumulative rate of inflation since January 1989 to the end of November 2010 has been 80.68%, which essentially means that in about nine months, in inflation adjusted dollars, I will be making a little more than half of what I made in 1989!  Which will be about 20% of what I made in 2008.
But those times are long behind me, and for good reason, as I explain on my About Me page.  At the same time, the family finances have taken a huge hit these past two years which heightens the senses, especially living in an extremely high cost of living area.  And for the teary eyed out there, I knew the economics of teaching was not so great before I started my sojourn since my wife is in her sixth year as a high school math teacher.
All data are adjusted for inflation using the InflationData.com website which uses the
Consumer Price Index (CPI)
from the U.S. Bureau of Labor Statistics.  For estimated inflation between now and the upcoming fall 2011 academic year, I used a Congressional Budget Office (CBO)
website
.
The gap between 2008 and 2011 reflects my getting laid off in March 2009 and entering grad school full-time in 2010, with super-sized student loans to boot so the graphic really should show a negative value for 2010. Also, FWIW, I earnestly started my transition to teaching in March 2009.  Nearly 30 months will have elapsed between then and my first paycheck as a credentialed teacher in September 2011; entering the teaching profession is no simple, straightforward task as many might say or have you believe.
As advice to future career changers, timing and prerequisites are everything.  In my case, the admissions deadline of the nearby state school for fall 2009 was less than one month away at the time with an incredible amount of prerequisites required just to apply, some of which were show stoppers like passing a series of standardized math sub-tests (number theory, algebra, geometry, probability & statistics, calculus & history of mathematics) since my undergrad degree was in electrical engineering (EE) and not mathematics.
Even though I took significant amounts of math as an EE to include linear algebra, calculus, differential equations, complex math, probability, statistics, and oodles of EE courses, which are essentially applied math, using LaPlace transforms, Fourier transforms, state-space matrices, discrete mathematics, and much more, they are not deemed adequate enough by the California Teaching Commission (CTC) so I either needed to get an undergraduate, or graduate, degree in mathematics, or take and pass the California Subject Examinations for Teachers (CSET) for my subject, mathematics, which were not even offered in time.
Adding insult to injury, due to the budget crisis in California, all the state schools stopped admitting students for teaching credentials in June 2009.  All of this set me back further than I expected, but as with all things, it all worked out for the best as I am very happy with my teacher ed program, with the minor exception here and there.
So you better believe I'm not entering teaching for the money, or the easy life!  Unlike what so many spew all over the Web, I feel teachers are grossly underpaid given expectations of them, and the challenges presented to them every day.  Nonetheless, teachers accept whatever they can receive in their collective bargaining agreements knowing that their real reward comes from making a difference in hundreds of lives every year, and thousands every decade; whether students recognize it or not, the vast preponderance of them are better off thanks to their teachers.  It may take a while for the seeds planted by teachers to sprout, but they will, and how, as long as the soil, perhaps better spelled as "soul," is tilled and watered by the student, his/her parents, and other loved ones in the student's community.
Teaching truly is the noblest of professions.  I challenge anyone who believes high school teachers have it easy to spend one entire day, solo, teaching five classes, heck even with all classes of the same subject, of his/her choosing, unlike most teachers with two or more subjects per day in five (or more) classes.  I bet that the overwhelming majority, and perhaps even 80-90%, will realize just how challenging it is to teach, and be effective not just for one day but 180 days, even with what might be perceived by the "volunteer teacher" as the most rudimentary of subjects.  I am waiting to place wagers any time, of course, not money wagers, just wagers for bragging rights.  But if it was ethical, and possible, to bet money on this, one could become a millionaire very quickly!  Do I sense a new reality TV show on its way?  [Sadly, it might just happen knowing how crazy entertainment has become these days and how strapped for cash school districts now find themselves.]
Crunchy numbers (from the stats helper monkeys)
It would be nice to know who was from coach, business, or first class, though.  Maybe the WordPress stats monkeys can work on that for next year.

Per the WordPress.com stats helper monkeys, a Boeing 747-400 passenger jet can hold 416 passengers (344 in the seat configuration at the right, though). This blog was viewed about 1,600 times in 2010. That's about 4 full 747s.  According to the monkeys, that is not bad for a little over 4 months in existence.  In those 4 months, there were 100 new posts, which comes out to 0.75 posts per day.  In fairness, many of my blogs leverage required writings for my ed program, so I do not believe I will keep this volume up every year.
The busiest day of the year was December 10th with 96 views. The most popular post that day was Is Superman Headed to Compton?.
Where did my viewers come from?
Again, according to the WordPress.com monkeys, the top referring sites for me in 2010 were facebook.com, twitter.com, Google Reader, blogs.edweek.org, and mail.yahoo.com.  Thank goodness for social media.
Some visitors came searching, mostly for smart board, cameras in classrooms legal for teacher evaluation, smartboard touch screen, candidate teacher observation reflections an dcoments, and pepsi concept map.  Not sure I would make these my top tags but whatever works…
Attractions in 2010
The following are the top five posts and pages that got the most views in 2010.
1
Is Superman Headed to Compton? December 2010
1 comment
2
Why I teach… November 2010
2 comments
3
About Me August 2010
4
Math is Inside of Everything November 2010
2 comments
5
Pink Floyd and Pedagogy November 2010
1 comment
Well, that's it from me and the WordPress.com stats monkeys.  Until the 2011 in Review posting, may you enjoy every day for the magnificent gifts it brings, your life being one of them.  We have so much to be thankful for in our lives, let's hope all of us keep that top of mind throughout the year.  And may we all have the strength to face each day as strong role models for our students, who look to us for guidance and inspiration, even though they do not say as much.
God Bless and Happy New Year!
Dave